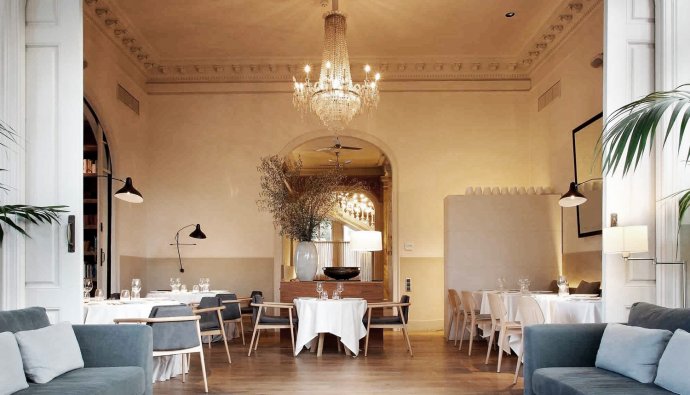 Mediterranean on the plate, the healthy cuisine of Metropolitan Iradier
Metropolitan Iradier's healthy kitchen
More than 6 years have passed since the Iradier restaurant opened its doors. Located in the lobby and ground floor of the Pedralbes Club, Iradier is a modern and sophisticated space; an ideal place for business meetings, social lunches and romantic dinners within the framework of a XNUMXth century mansion.

Iradier's cuisine pays special attention to the raw material, showing the essence of the product through its dishes. Tasty, nutritious and sustainable dishes with the most traditional Mediterranean recipes. And it is that the restaurant receives fresh food daily and prepares it taking special care of its properties through specific cooking methods for each one.

Iradier shows its passion for seasonal products in the daily menu that allows you to choose between the fitness menu, the healthy bowl or the two-course menu: vegetables, pasta, rice, fish and meat. A versatility also visible on the menu. Thus, we can find tasty creations such as pidé (coca) with scamorza affumicata cheese and seasonal products, black quinoa salad with burrata and pistachio, Heura sautéed with seasonal vegetables, penne rigate with burrata and fresh caramelized tomatoes.

Each menu is designed not only to nourish the body and be healthy, but also to enjoy the pleasure of eating, rediscovering the richness and aromas of light and healthy cuisine. you can meet the weekly menu through our website:

Iradier's kitchen also cares for the planet, through practices that respect the environment, suppliers that guarantee fair trade.

In addition, the charms of the Metropolitan Iradier restaurant are not only culinary, but also architectural. The space reflects a current, young and fresh atmosphere in keeping with the image of the Club. Without losing the elegance of the spaces and classic ornaments of the space where it is located, such as its imposing marble columns, painted friezes and hidden sliding doors.

Sandra Tarruella's interior design studio carried out the design of the establishment, relating the spaces to promote the use of restaurants or bars regardless of the area where you find yourself feeling comfortable at any time of the day.

You can enjoy a meal at the Metropolitan Iradier Restaurant after doing your training in the most complete gym in the upper area of ​​Barcelona. The Iradier Club has 10.000 m2 of spectacular facilities.

Composed of a Fitness Room with the latest technology, 1.400 monthly hours of Directed Activities, Personal Training, Pilates, Swimming Pools (indoor and outdoor), Solarium, Padel, Physiotherapy, Osteopathy, Nutrition, Aesthetic Medicine and the best Beauty Center de Pedralbes where the most complete facial and body treatments are performed. Check the schedules and activities here!.

Have you already chosen your menu for today?

I hope.