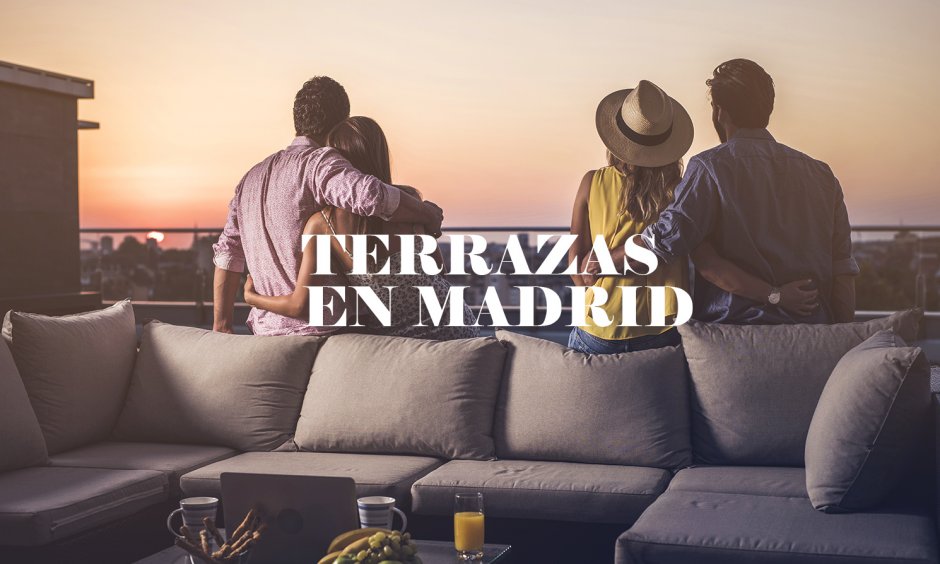 THE BEST TERRACES OF MADRID TO WELCOME THE GOOD TIME
Discover the selection of terraces of Madrid by Metropolitan that yes or yes you must know.
How many times during the year do you think of that spring atmosphere of tranquility, sun, breeze, good atmosphere and vitality? Surely more than one and two. And it is not
for less!

Spring has arrived and we have left behind the short, dark and winter days. The good weather begins to give way to the clear skies, sandals and terracing afternoons. And more in Madrid, where these small oases become the simplest way to escape from routine.

Lacking a beach, the capital offers us several proposals that will help us feel, even for a few hours, that spending the summer in Madrid may not be such a bad idea. Take note!

Circle of Fine Arts

Photo: Roof of the Círculo de Bellas Artes

A classic among classics. Since the voice was heard around the city about 5 ago, this roof has not stopped being a must within the cosmopolitan and chic sphere of Madrid. With the urban landscape as a backdrop, this place with history will dazzle you while you take something refreshing with 360º views of Madrid.

Schedule: Monday to Friday from 09: 00h to 21: 00h and from Saturday to Sunday of 11: 00 to 21: 00h.

The Sky of Alcalá


Photo: El Cielo de Alcalá
A panoramic view, a succulent tapas and great cocktails. Would you reject such a plan? If you are one of those who like to see the city from a bird's-eye view, this is your ideal place. The H10 Hotel of the Puerta de Alcalá welcomes this wonderful corner in the heart of the city. Specialized in the brunch that they serve during the weekend, you can enjoy the tranquility in the center.

Schedule: Monday to Sunday from 13: 00h to 01: 00h.


Sky Bar Hotel Emperador


Photo: Hotel Emperador

Incredible tapas and cocktails while you take a dip, is there a better plan for summer days? Recently, the Emperador Hotel opened its doors to the public (not just to its guests) so that anyone in Madrid could enjoy everything that their rooftop offers. Your Beach Club terrace has from Balinese beds to solarium. With these proposals, you will not have any excuse not to visit it.

Schedule: from Wednesday to Sunday between the 20: 00h and the 02: 00h.


The Garden of Diana


Photo: The Garden of Diana

The gods of Olympus are the main inspiration of this place, where marble and vegetation will make you feel in the very same Greece. The summer evenings in Madrid will become a plan you will not want to miss: pairings, informal picoteo ... All this with a Mexican touch that brings the contemporary key to an idyllic classic setting.

Schedule: every day of 16: 00h to 02: 00h


Pomeranian

Photo: Pomerania

In addition to the roofs, the interior courtyards are also a good option to unwind and relax in Madrid during the summer days. The fourth proposal of the RanTanPlan group (the gastronomic-canine saga of Madrid) manages to combine the avant-garde and simplicity in this space. If you like fusions (Nordic style with Mediterranean and Peruvian influences) and terraces, surely Pomerania wins your heart.

Schedule: Sunday through Wednesday of 11: 00h to 01: 00h, Thursday to Saturday of 11: 00h to 02: 00h.


The House On

Photo: La Casa Encendida

When art, culture, leisure and gastronomy are mixed it is very difficult that the result is not more than satisfactory. This beautiful roof is a sample of it: having a cool drink or a refreshing smoothie, at the same time that a live music concert accompanies the sunset is a pleasure that few would give up.

Hours: Thursday to Sunday from 19h to 24h.

Now, instead of letting the mind escape at idyllic moments with that atmosphere we were talking about at the beginning, get away! Choose the ideal terrace to enjoy a meal with the family, a few drinks in the afternoon with friends or an afterwork with coworkers. Or you can also try them all. You will not be short of plans!