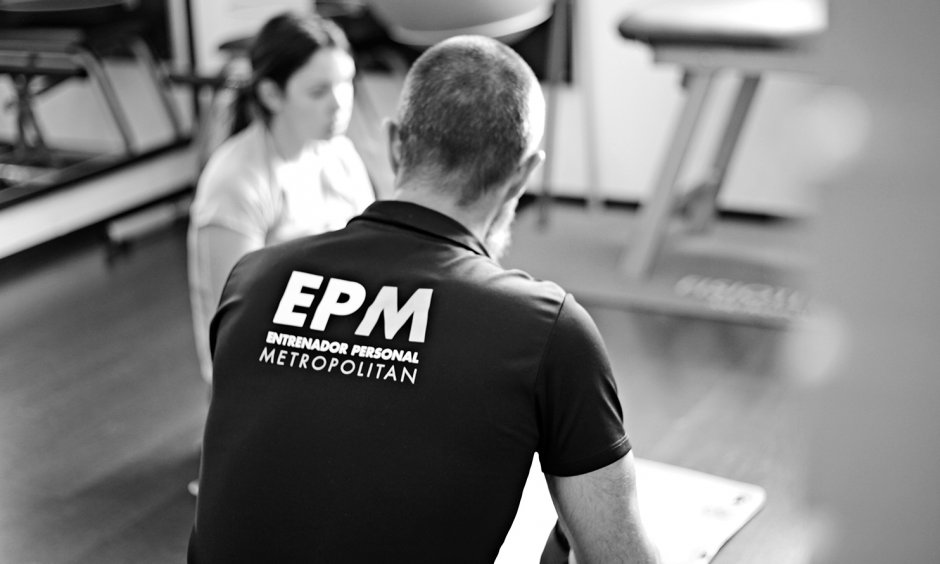 FIND YOUR PERSONAL TRAINER IN OUR GYMNASTICS OF MADRID
Get fit with a totally customized training plan at the Metropolitan gymnasiums in Madrid.
Each person has different physical and physiological needs and, therefore, the sports practice carried out in the gym must be different in each case.

Normally, people who come to the gym for the first time put into practice the trainings that they think are most effective to achieve their goals. However, it is vital to have the advice from a personal trainer qualified to advise you and guide you in the process to focus on your goals, avoid injuries or simply to avoid wasting time.
To achieve change, it is necessary to establish new goals and ambitions. To be able to reach them, it is always better if you do it in the hands of professionals who help you and advise you in everything you need.

If you're looking for gym with personal trainer in madrid Read on and discover the advantages of training with Metropolitan professionals.

The best coaches to help you achieve your goals
At the Metropolitan gyms you can enjoy the best personal trainers and nutritionists in Madrid.

Metropolitan's fitness technicians and personal trainers are highly qualified to guarantee a unique experience, with knowledge backed by official titles. Most of them are graduates or graduates in Sciences of Physical Activity and Sports, as well as Superior Technicians in Animation of Physical and Sports Activities and Diplomas in Physical Education.

The technicians of the directed activities, in addition, are specially trained for each discipline. This way they get the experience to be full in terms of fun and physical performance. Also, the physiotherapy and nutrition service has qualified professionals with more than 15 years of experience, so that you put your health in your hands with total confidence.

The advantages of having a personal trainer

In addition to the knowledge that the staff of the Metropolitan gyms can provide, having a professional personal trainer has more advantages than you may have been unaware of.

The main advantage is that you will have a custom training plan made to your needs. This way, your trainer will mark you the exercises that you must perform, their duration, intensity and the variety of exercises according to your needs.

It will be easier to perform the exercises in the correct way, as your personal trainer will monitor your movements in detail to achieve the desired result. Therefore, it will also be more difficult for you to injure yourself or hurt yourself. Also, you can arrange the schedule that best suits you with your personal trainer so you can make the most of the time.

It is very important to be motivated when you want to achieve certain goals. Therefore, who better than your coach to boost your motivation and never let you give up. A personal trainer becomes a friend with whom to share frustrations and ambitions.

On the other hand, it should be noted that hiring a personal trainer will make you go to the gym every day and, in this way, you will save time and money. You will no longer feel that you have returned to the gym for anything.

The personal trainer and nutritionist service of the Metropolitan gyms

Although physical training and perseverance are an essential part of achieving your goals, All training plan must be accompanied by a personalized diet.

The nutritionists of the Metropolitan centers in Madrid must be your great allies on the road to change. Healthy eating is vital, but as with physical activity, it should be appropriate to your personal needs.

Metropolitan Nutrition and Dietetics Service is composed of qualified and specialized professionals in the clinical and / or sports area. The adaptation of the diet to each person has not only to do with the achievement of a more effective sport activity, but it helps to establish healthier eating habits.

Once you create healthy habits, the motivation factor will be present from start to finish. Enjoy the advice of professional nutritionists while a personal trainer puts you in shape!

Metropolitan puts at your disposal both services in the different gyms of Madrid:


Metropolitan Abascal

Located in the Madrid neighborhood of Chamberí, you can enjoy a magnificent room fitness where to develop your sports routine with your personal trainer.

In addition, this center has the largest offer of activities directed from the capital, so you will not only enjoy the engine room, but also the dynamism and fun of the group classes.

All the activities can be complemented with the nutrition service or enjoy a healthy and tasty food restaurant designed to take maximum care of you.


Metropolitan Eurobuilding

On the other hand, the Metropolitan Eurobuilding center, located in the Chamartín neighborhood, is one of the largest sports centers in Madrid. It has facilities 4.000m2, with a large fitness room equipped with the latest machinery.

At the Eurobuilding center you can request physiotherapy service so that your training is as effective as possible. Tracking a personal trainer together with the supervision of a physiotherapist will make your body work at 100%.


Metropolitan Palace Santa Ana

If you are looking for a gym with a personal trainer in Madrid center, at Metropolitan Palacio Santa Ana you can enjoy a personalized workout a few meters from Puerta del Sol.

This center is ideal if you have little time to do your workouts, besides being one of the most complete gyms in Madrid.

Metropolitan Crystal Tower

Finally, the Metropolitan Torre de Cristal gymnasium is located on the Paseo de la Castellana at 90m high in one of the tallest buildings in Spain.

Its imposing views of skyline of Madrid make its fitness room one of the best in the entire capital. Do not miss it!