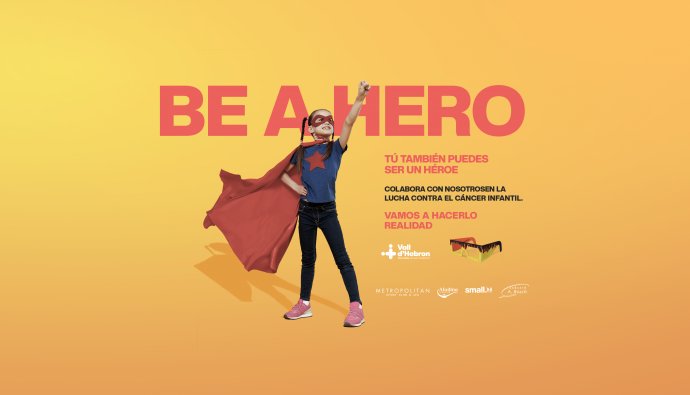 Be a Hero - Let's make it happen
Metropolitan joins Fundación Aladina in the fight against childhood cancer
Undoubtedly, childhood cancer is one of the worst versions of this painful disease. According to data from the AECC, in Spain there are more than a thousand cases per year between 0 and 14 years. And although survival exceeds 80% of cases, the truth is that these boys and girls, along with their families, need great support and accompaniment to make their days of treatment a little more enjoyable.

Luckily, there are non-profit foundations such as Fundación Aladina that help children and adolescents with cancer and their families. Since its creation, her entire team has worked so that no sick child or her family ever lose their smile or the desire to fight. They take care of them from the moment they arrive at the hospital and accompany them every day so that they know they are not alone and feel their unconditional support.

At Metropolitan we are committed to our society and to causes that help make this a better place to live for everyone. That is why we will collaborate in a Fundación Aladina project: remodeling the Pediatric Oncology and Hematology Area of ​​the Vall d'Hebron University Hospital.
The ultimate goal is to raise money to serve for such remodeling. And that is why we want to invite everyone, members and non-members, to join this cause with us. To do this, at Metropolitan we will develop different actions between May 2 and 15 aimed at collecting benefits for this project:
Enhanced Reality Glasses:

The Foundation has created these glasses that represent a further step towards augmented reality, because they improve the lives of those who use them. They are glasses created, painted and personalized by the patients themselves, which are for sale and whose profits go to the aforementioned project. If you want to collaborate by buying glasses, you can do so at the reception of all our clubs or at through this website.

Solidarity master classes:

During the week of May 9 to 15, solidarity master classes will be held every day in all the clubs. Both members and non-members may attend by paying a charity fee, which will be donated in full to the cause. To be able to see all the offer of master classes specially created for this action, and the cost of each one, you can click here.

In addition, some of these master classes will be carried out by celebrities such as Manel Fuentes, Samantha Vallejo-Nágera, Maxi Iglesias, Jaime Astrain, Josie, Jordi Cruz, Amelicious, Xuan Lan and many more. The celebrities will lead Zumba, Body Pump or Spinning classes, read their books or carry out showcookings. In other words, endless activities designed so that anyone who wants to attend can enjoy the hand of their idols.

Contest for one year of access to the Metropolitan Clubs:

In addition to the highlighted actions, we will also carry out two contests so that whoever participates has the possibility of winning a year of free access to the Metropolitan Club of their choice.

There are two ways to participate:

· Buying solidarity glasses and posting a photo on Instagram with the hashtags of #EnhancedReality y #MetropolitanGym
· Enrolling in a master class, everyone who does, automatically participate in the contest.

You can read here the bases and conditions of the contest.

Collaborate with your menu

Finally, in clubs that have restaurants, a special Be a hero menu will be created with which you can expand your menu for €2 and turn it into a donation.

Thanks to the work of Fundación Aladina, each year around 1.500 sick minors from all over Spain benefit from the 18 hospitals in which they collaborate.